Memories of  Richard and Diane
Frederick Edward West      Born: 1914 March 07    Edmonton Alberta – Royal Alexandra Hospital
The John West family moved to the Vancouver area about 1919.  They lived in South Vancouver, where Fred attended Laura Secord Elementary school. The family later moved to the Kitsilano area where he attended Bayswater Elementary school, Kitsilano High school and King Edward High school for senior matriculation. Fred, older brother Harold and younger brother Ken grew up under the watchful eyes of sisters Elsie and Edna and were, and remained, very close friends.  They helped the family finances by cutting alder for firewood, loading it in an old truck and selling it.
Following school Fred went to work for BC Packers, working in the engine room of fish packers and during the winter at Celtic Shipyards where he worked on repairing and refurbishing diesel engines. Here he gained a knowledge of engines which prepared him for a job with Vivian Engine Works (later Vivian Diesel and Munition Works) where he worked during WWII.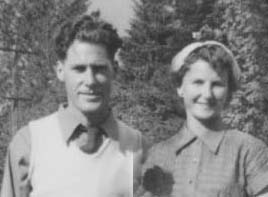 In 1938 Fred met Nora Trethewey, on the steps outside Canadian Memorial Church hall, where they had been playing badminton. It was here that the couple later brought together Fred's brother Harold and Nora's best friend Marjorie Clark. Nora Marguerite Trethewey was born in Moose Jaw, Saskatchewan on 1915 October 01. Her family moved to Burquitlam BC in 1929, and while attending Duke of Connaught High School she met Marjorie. They became lifelong friends. The Tretheweys later moved to Kerrisdale in Vancouver, where Nora attended Magee High School, getting her senior matriculation in 1934. She went to on business school and continued her piano studies, receiving her ATCM in 1937. She taught piano in Vancouver for some years.
Fred and Nora were married 1939 April 05 in the Vancouver home of the Tretheweys in Dunbar. Harold and Marjorie were their attendants, and they were to marry soon after.
Children Richard(1940) and Dianne(1942) were born in Vancouver during WWII. Fred and family were moved to Trenton Ontario in 1943, where Fred was in charge of the installation of Vivian Diesel engines in many naval tugs being built by Central Bridge on the Trent River for Canada and Britain. For the next four years the family moved back and forth from Trenton to Vancouver, spending no more than six months in one place. In 1946 Fred was sent by Vivian's to Buenos Aires, Argentina where surplus naval tugs were sold to the Argentine navy after the war. Six months later the family returned to Trenton (Nora and the kids having lived with Marj, Harold, Marilyn and Barry during Fred's absence). Fred and family moved back to Vancouver in 1947, where they moved into a home built by brother Jack. It was close enough to the Jack West's home that cousin Ann could babysit the kids and bake pineapple upside down cakes and peanut butter cookies for them.
After one more move to Trenton  and another four month stay in Buenos Aires for Fred, the family finally settled in Vancouver for good. Rich and Di would be able to spend a whole year in the same school!!
Soon after returning, Fred left Vivian's and began building houses in the Marpole district of Vancouver. In 1951, he built one of the first two apartment buildings in Marpole, a five suiter which the family lived in. This began a very successful construction firm which built dozens of buildings throughout Marpole, Kerrisdale, South Vancouver and Dunbar. Nora was a stay at home mother who also helped Fred with design and decorating of the buildings.
From the late 40's on, the family enjoy a great deal of car travel, mostly in the winter when building was slow. Car trips to California and the US southwest with Grampa and dog Buttons along, gave us all many happy memories (see pennants). One great trip started with a train trip to Hamilton Ontario, to pick up a new 1955 Studebaker, then to Sarnia for a wonderful Christmas with the Ken West's. The trip continued down the eastern seaboard, along the gulf coast and back to the west coast. Summers at Boundary Bay with the Harold West's were very special times, as were car trips to Trail to visit the More's and the John West's in Alberta. In later years, Fred and Nora enjoyed Hawaiian vacations, often meeting Harold and Marj  and/or Grampa. In addition to travels, they were able to enjoy the early years of Dianne and Nick's children.
Fred's favourite pastimes were spending time around his backyard pool, in later years and playing golf. He loved golf. While living in Trenton, he won the Trenton Golf Club  club championship and during that time had his first hole-in-one. He played tournament golf in BC and the Pacific Northwest at a high level for years. In spite of poor health beginning in 1965, he was able to maintain a low handicap and was even par for the last 9 holes he played, before his death on 1969 April 03. This was two days before Nora and Fred's 30th anniversary.
Nora travelled to England in 1970, following through on a trip she and Fred had planned to make. There she visited and became friends with cousin Mary, and visited aunties Elsie and Ruth. She married Harold Dill in 1970, and together they enjoyed the six grandchildren that Richard and Dianne had. Nora passed away on 1980 February 16.
Super 8 family movies from Christmas dinners at Bill & Elsie's in East Burnaby in the '50s.