–

Family memories from Ann, John and Bill   (Dad 1905-1982   Mom 1905-1997)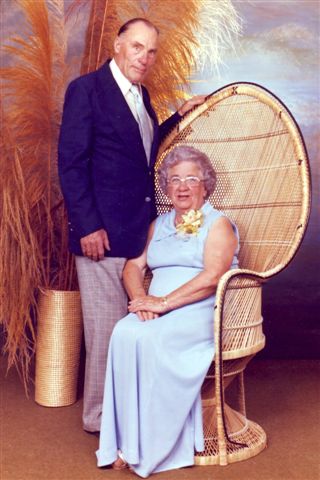 Jack was born in Wantage, England (Venn  Mill) June 27, 1905 and at a very early age moved to Canada with grandma, grandpa and baby sister Elsie, living in Alberta and moving to Vancouver in 1919.  He married Margaret Petersen on June 29, 1928 at Riverview United Church, South Vancouver. They had three children John b. 1933 Ann b. 1934 and Bill born in 1937.  In  March  1937 Jack went to Pioneer Mines, a very small community in the British Columbia interior, where he was employed by Pioneer Goldmines.  To get there he walked along the train tracks from Anderson Lake past Carpenter Lake.  He worked underground as a cage tender and miner until July 1940.   In tha area and at that time money was scarce and automobiles were almost unheard of..  Shortly thereafter he moved the family there to live and John started school at Pioneer in 1938.  John remembers riding in the "stage", a nine passenger car from Pioneer to Saquamish on the trips to and from the mines. The family left Pioneer 1939 and moved back to Lulu Island ( now Richmond ) where John, Ann and Bill attended Bridgeport school .  There was no road from Saquamish to Vancouver so a ferry or  the "Royal Hudson" train  had to be taken to Horseshoe Bay.  It was a long trip across West Vancouver, Vancouver,  Marpole then across two open span bridges, Sea Island and Lulu Island bridges,  where the family lived at  380 Alberta Rd. Lulu Island until 1944
Grandma and Grandpa West lived on #3 Road across the tram tracks at the end of Alberta Road in a small house Grandpa and his sons built..  Grandpa had a big heavy old canvas tent he had put on a wood foundation that was 'the kids' great play place (I now believe it was because Grandma was ill with cancer at that time and needed quiet time – she later moved from there to care)  Picture?   
Jack worked for Finches Transfer in Vancouver moving furniture and pianos and at Canadian Canners.  He also had a small mink  farm on Alberta Rd.,  selling mink pelts – he raised chicken as well as rabbits and grew a large vegetable garden.  Like his brother Fred,  Jack learned his carpentry from  Grandpa. Jack also worked with his brother Phil and Don Coker making wooden furniture (Westco Products) .  Westco  Products later became pioneers in the manufacturing of nylon winter jackets.  Jack was also an avid bird hunter.  Before their marriage Margaret worked at a fish packing plant in Steveston.  During the early part of World War II Jack worked for Vivian Diesel doing mechanicial work on Naval and other ships.
 In 1944 Jack built a home at 7750 Granville Street in Marpole  – from there,  during the big floods of 1948, Jack & Margaret and Billy moved to Kelowna.  John and Ann stayed with Auntie Edna in Vancouver until the end of school term.  At the end of June, 1948 John & Ann travelled on the Kettle Valley Railway to Penticton, through the terribly flooded Fraser Valley.  At Penticton, to get to Kelowna, they had to change to greyhound bus.  The flooding Okanagan Lake had overflowed onto the highway and we witnessed a fellow walking beside the open door of the Greyhound bus indicating  the edge of road to driver (very scary!)
Jack & grandpa built lapstrake small boats in Jack's back yard on Granville Street, the same boats Grandpa "putt-putted" from False Creek to the Sunshine Coast with some of his oldest grandchildren in the mid 40s (no life jackets).  The children attended David Lloyd George school in Marpole  and Point  Grey Junior High.  Ann was a runner during her school years and received trophies, medals & ribbons – she has a gold locket presented at a Sunday School picnic on Bowen Island as well as other souvenirs
During the 1940's, while living on Lulu Island, John and Ann remember the removal of Japanese Canadians from Steveston to the internment camps in the interior of British Columbia.  Sea Island airport is very close to Lulu Island so we got full benefit of all the sirens and search lights looking for enemy planes that happened during war years, the air raid sirens were often blaring during the day.  At Bridgeport School the teachers would march students outside with their potato sacks that had to keep close to each desk – when the sirens wailed, we would be marched onto the school grounds where the students laid on stomachs covering their heads with their arms during the evacuation while waiting for the 'all clear' sounding siren: scary stuff for kids.  We never knew whether it was a practise or for real.  The rationing of butter, tea, coffee, sugar, etc. was hard on people.  Peanut butter was not available, so something the same color and consistency was substituted and it was really yucky  There were no candies, gum or treats of any kind.  Nylon stockings were almost impossible to get and Ann remembers  her dad drawing a pencil seam line down the back of her mom's legs so it would look like she was wearing stocking when she went to some important event.  The silver paper from cigarette packages was collected and there were barrels of it at school to be sent somewhere.  Jack had framed tar paper for easy insertion each evening into the house windows because the lights from inside were not to show after dark.  The lights on cars were covered too with just a slit and weren't to be driven after dark unless necessary.  After the war there was an open house at the airport where fighter planes and   'Bailey Bridges' were on display, also replicas of much stuff that had been used in war zones.
John remembers going to Brockton point with Grandpa to watch Australian Navy sailing ships coming into the harbour under the Lions Gate bridge that opened in 1938.  Grandpa explained about the masts, sails and other parts of the big ships and told him stories about his experiences at sea.  He  also remembers riding his bicycle with Grandpa and Ann to  Boundary Bay to see Uncle Harold and Aunty  Marg where they were building a small cottage on Centennial Way, now the home of their daughter Marilyn and husband Barry Cotter.  Grandpa rode with a folded tent on the carrier on back of his bike to spread on the sand for sleeping at Crescent Beach where he and the kids  would spend the night looking at the stars before the big ride home in the morning.  Margaret would always make sure we had lots of sandwiches. John remembers visiting grandma & grandpa in an apartment near Kitsilano Beach, and walking along the seawall with Uncle Fred and Uncle Ken while they watched the girls on the beach
In 1948 Jack and family moved to Kelowna where he built the house at the corner of North Street near West Avenue.  John, Ann and Bill attended school in Kelowna and Jack continued to build houses.  In 1951 Jack,  John and Ann  went to Prince George where Jack  began building houses again. When Billy's school term was finished Margaret and Billy joined them.   In May 1951 Ann started her first job as secretary with BC Spruce Sale Planer mill at a salary of $170.00 per month.  In July 1951 John joined the RCMP and went to Ottawa to begin his training.  At that time members were required to remain single for the first seven years of their service.  However in 1957 Prime Minister John Diefenbaker reduced that time to five years and John married Joyce Bondesen in Calgary on April  27, 1957. He served for 28 years in the Mounted Police largely in Alberta.  On retirement from the police force he spent 11 years as the Town of Ponoka CEO, retiring from that position in 1991.  Joyce passed away July 30, 2012 .
On March 22, 1982 while crab fishing with son in law Clifford Walker  near Nanoose Bay, across the bay from Cliff and Ann's Lantzville home their small aluminum boat overturned as they were pulling up a crab trap.  Jack tied Cliff, a non-swimmer, to a bouy while he tried to swim to shore holding on to the overturned boat, talking to Cliff as he drifted toward the shore.  He was picked up by a naval vessel from the Nanoose Bay Naval Base clinging to the boat having died attempting to get to shore.  He was pronounced dead from hyperthermia.  Clifford was picked up by the same vessel also suffering from hypothermia,  taken to the hospital and released several hours later.  Jack always enjoyed the ocean, travelling, swimming, boating, fishing, crabbing, digging clams, eating raw oysters etc., he enjoyed life in general.
Margaret worked at Steveston, packing salmon, before she was married.  She enjoyed baking cooking, canning, pickling, entertaining friends and playing bridge.  She was very athletic, a runner, and received medals and ribbons during her school years. She loved to go fishing any chance she got.  In retirement she enjoyed carpet bowling and became an honorary  member of Lantzville Square Dance club (where Ann & Cliff square danced weekly).  Lisa, Margaret Looyen, their great granddaughter has the baton that she used in relay races.  Ann has medals with her name engraved. .   Jack was a life member of the Elks Lodge and Margaret a life member of the Royal  Purple. 
Jack West Family
Margaret as a girl on Salt Spring
John & Joyce
John, Grampa, Ken and Jack
Winter Sports
John, Ann and Billy
John & Ann
Elsie & Jack
Billie, John & Jack
Bob, Jack, John, Ken & Grandpa
Dad, Bill & John
John in Grampa's Chair
John & Bill West families
John West family
Bob & John
Bob and Police Car
Bob