1. Polly, Sarah, Emma, Will  2. Molly, Heber, WWW, Ruth
(Click on red highlighted text for additional information. Click on photograph thumbnails to enlarge and use your browser's back arrow to return to this page)
William Westell West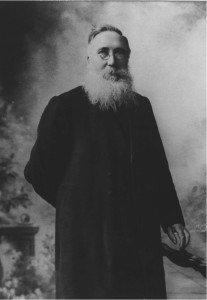 was born in Steventon in 1847.  In 1858, aged 11, he was installed as Mill Manager by his father Daniel (b. 1813) along with his eldest sister Fanny, aged 15, as a housekeeper, at lower Grove Mill (now demolished), where he. also supervised a miller and a carter.  There were several harsh winters in those years and young William (11 years old) had to get up at 3 AM to break the ice so that the water could flow to run the mill.  William and Fanny were given 16 shillings a week for housekeeping and buying clothes.  The census of 1861 confirms that he and Fanny were still there in that year.  He married Sarah Aldworth on Boxing day in 1868, moving to Venn Mill in the following year. He was for 25 years "Guardian of the Poor" for Abingdon District (1885-1910).  This meant that he served on a committee which decided who would and who would not go to the workhouse (a 19th century British institution which took care of the indigent and infirm, including many retired people).   W.W.W. worked particularly hard to keep husbands and wives from being separated in these institutions (as was the custom).  1993 Venn Mill owner: Alan Stoyel had early twentieth century Guardian of the Poor records in W.W.'s hand (along with a piece of wood from Venn Mill with "Percy" carved on it). W.W.W. was also an overseer and school manager, travelling on foot or by tricycle. From 1896 – 1905, he was a supply (lay) Preacher at Grove Strict Baptist chapel.  In 1905, he and his wife Sarah (with youngest daughter Ruth) went to Reading (ostensibly for theological studies), leaving Grandpa John in charge of Venn Mill.  In 1908, they went to Heathfield, Sussex where W.W.W. was appointed pastor. at the Ebeneezer Strict Baptist Chapel.  We have a Booklet of sermons which he wrote & preached during his final years.  They lived at Laurel house until WWW died in 1924, then Sarah moved 2 blocks away to "Steventon" (house). m  During the war, grampa brought a Maple tree which was planted there (subsequently removed).  They are both buried in the churchyard there.
Sarah Aldworth
was born in 1845 in Wantage.  Her family had been well-to-do when she was a child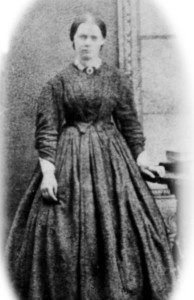 but poor later.  She was proud that she was related to "royalty" in Ireland and visited there when she was young.  (British peerage lists include an Aldworth in Southeast Ireland near Carlow).  W.W.W. and Sarah were married in the Wantage  Parish Church in 1868, beginning their home at Venn Mill in 1869.  (sarah's wedding dress) In addition to all of the household (and farm) chores, she sewed the clothing and brewed the beer (interesting activity for a Strict Baptist family).  She was a great herbalist.  Her  recipe for yarrow tea, from Dr. Coffin's herb book, was so noxious that the children refused to admit when they had a cold.   (Grandpa John, asked later if he still used it, said "No, I had enough for 3 generations)."  She died at Heathfield in 1939 and is buried beside W.W.W.   Her will is an elaborate list of pieces of furniture and a tea service bequested specifically to each of the children, which consisted of a "headless dragon tea set service" in equal parts to the four girls. The remainder of the furniture was divided among the children.  Interestingly the last clause in the will states that the remainder of the estate will be divided among the four daughters, Heber and Fred (none to Asher, Will, Grandpa John or Percy. (Aldworth pottery)
William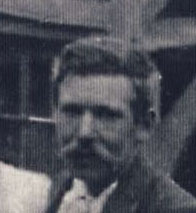 (Will) was born in 1869 at the Ham Mill in Wantage.  He travelled to Canada in 1885 at the age of 16.  Percy remembers letters which described him getting lost in the wilderness and lighting three bonfires to stave off the wolves.  Needless to say, mother Sarah and the family were very worried.  W.W.W. sent him money to come home, which he did shortly thereafter.  He married Eleanor (Nell)  Winter and  lived at Marcham Mill.  Later, he lived at Drayton, where he was in charge of a large pig farm.  Mary Irish  remembers visiting a wonderful earthy old man with a broad Berkshire brogue.   Like Auntie Edna and Uncle Ken, both Will & younger sister Molly had severe glaucoma and were virtually blind at the end of their lives.
Emma Jane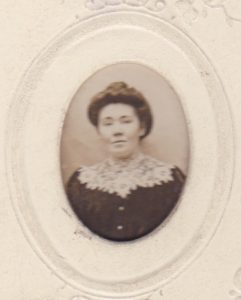 (Empsey) born in 1871, went to Miss Bailey's School in Wantage,  as did Mary and later Mary Irish .  Miss Bailey was a Lady much beloved by many generations of girls and women in that area.  As the eldest daughter, Emma was somewhat of a second mother in the family.  She was known for her work with the sick and is remembered as a kind older sister who loved to cycle around the countryside. Like her sisters,  She was with Molly at Horsham for a while and then served a lady in Sussex for a number of years.   She died in 1940 and is buried at the Strict Baptist Chapel at Heathfield, Sussex.
Asher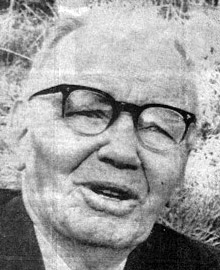 born in 1873, was, among other things,  a popular singer and whistler, performing in local concerts such as the Soirées in the great room of the William Long family's Garford Manor (to the disapproval of his strict baptist parents ). Asher was also reported to have "had the education" but his tendency to "talk Berkshire" and not pursue his education would not have helped his status in the family.  He does not appear at Venn Mill in the 1891 census, so he must have left home by the age of 17.  The "black sheep" of the family, he married Mary (Polly) – reportedly from a family unacceptable to William and Sarah, and moved to Ceylon, Saskatchewan in 1905 and to Panorama Ridge in Surrey, B.C. in the early 1930s, near his brothers in Vancouver.  Mary was reportedly a real "live wire".  She played piano well, giving her piano to niece Elsie before she died in 1936. In his later years, Asher had a companion (Hilda)  who lived across the street.  Although she was rarely around on the occasions when the family visited, she was obviously a good friend, and in spite of the some members of the family's view of this as "scandalous", she was a great support to him until his death in 1972.
Frederick
born in 1876, Fred emigrated to Kerrwood, Ontario (30k w. of London) in 1908 (or earlier)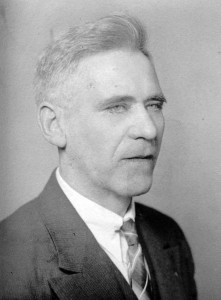 according to homesteading documents with grampa at Earlie, Alberta.  He farmed with Grampa from  1909 to 1912, working part-time with the CPR in Edmonton.  Family verbal history has him returning to Berkshire, where he met and married his cousin Minnie Simmons in 1913.  A son,  Dennis was born in 1914. (see below) Soon after, Frederick left his family and moved to Vancouver, purchasing land in  Coghlan, BC (Langley area) visiting Grampa and the family, from time to time.  We have a letter from him to his sister Ruth, following mother Sarah's death in 1938.  He died in 1945  in Vancouver.
Dennis's Story
Dennis's life is particularly interesting to us, since with the exception Mary Irish (nee West – Percy's daughter), he was the only grandchild of WWW and Sarah who remained in England.  None of the sisters had children and the rest of Grampa's brothers emigrated to Canada.  At some point after homesteading with Grampa in Earlie, AB (homesteading was "complete" by title dated October of 1912) Fred West returned to England during the next year to his wife Minnie Simmons, (first cousin).  Homestead records indicate a "non resident wife from 1909". (other records show him resident in Kerwood, Ont. about the time of Grampa's family immigration).  There are no records other than homestead and 1908 Ontario residence.  Dennis was born in 1914 (probably conceived in 1913 in England).  Thereafter, family history has him "abandoning" his wife and son and returning to Canada.  Fred may or may not have fought in the first war.  The next evidence we have of his whereabouts are photos with the Vancouver family (Donna and Ann at 1 year and 2 years  old, therefore ca. 1938.)  Below is a photograph of WWW's Sunday School class in Heathfield from about 1918 which shows Dennis and his mother Minnie.  Oxfordshire cousins Dan and Doreen Peplar remember Dennis as a simple sort of vagabond who lived for a time with Gypsies, roaming Oxfordshire and beyond, staying in barns at night.  They remembered that he had left home around age 12, then disappeared for 20 years.  They also remember his funeral which Doreen attended.  Roger Barker, who is a coroner also remembers burying Dennis at Malmesbury in 1982 and from him we have the burial records.  Al though we were unsuccessful at finding his grave in our attempt, Malmesbury Town Clerk James Whittleton very kindly sent a photograph of the headstone there which read as follows:  (unusual wording since it is not clear whether or not any of the the family members were interred in this plot – certainly Fred wasn't).  Somewhat surprisingly, his Aunt Emma included him in her will of 1940.
Percy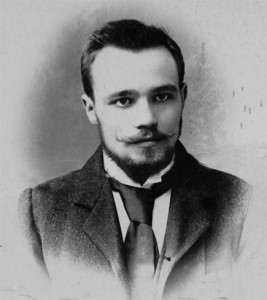 born in 1877, went to Garford School until he had learned as much as he could from the teachers.  He helped out teaching the younger children for a time and at thirteen, wanting to get on with his life, he took a job as a grocer's assistant.  His father, knowing he was capable of better things, put a stop to this and apprenticed him to an engineering pattern maker.  His artistic skills can be seen in his pencil drawings. He was planning to travel to Canada with Grandpa John, but after getting his passport, he changed his mind at the last minute.  He remembers father W.W.W. passing him in the hall and saying "take a return ticket, boy!"  He married Letitia Oldacre and they had Mary (later "Irish") in 1904.  He was a pattern maker at Nalder's works in West Challow, near Wantage, until 1913 when, for health reasons, he took a poultry farm.  The poultry market suffered during the war, and in 1916 he found work in Birmingham. He returned to pattern making in about 1930, retiring in 1943.  After Letitia's death in 1951, he re-married Miriam Smith.  Looking back to his days at Venn Mill, Percy only remembered one occasion in which the entire family was together there.  Percy died in 1975 and is buried in Grove Strict Baptist Chapel Churchyard with Miriam. Among his many legacies are the cassette recordings of his memories of Berkshire.
Elsie

was born in 1879 and as a young woman went to school in Nottingham, living with Uncle John and Aunt Esther Aldworth.   John was the head of the tram system in Nottingham at the end of the 19th C.   Elsie became a successful businesswoman who owned 3 businesses (millinery, dresses, draperies) in Guildford.   In 1920, she sold her businesses & became involved with the CAWG (Christian Alliance of Women and Girls), an organization founded in 1920 by a group of women concerned for the social and spiritual needs of young single women working in cities. Like her unmarried sisters, she lived in a generation of young women who discovered that there were, quite simply, not enough men to go round, and the statistics confirmed it. After the 1921 Census, the press ran alarming stories of the 'Problem of the Surplus Women – Two Million who can never become Wives…'.  These women were forced, by a tragedy of historic proportions, to stop depending on men for their income, their identity and their future happiness. Auntie Elsie acted in various administrative posts in these institutions in England and Wales.  She spent her last years with Ruth in Heathfield, Sussex and then in Eastbourne, reaching her 100th birthday in 1979.  The family archives, in my possession, contain a message of greeting from Queen Elizabeth on that occasion.  Elsie died that same year and is buried in the Heathfield Strict Baptist Chapel churchyard.
John
(Grandpa) born in 1881 – (see separate articles)
Molly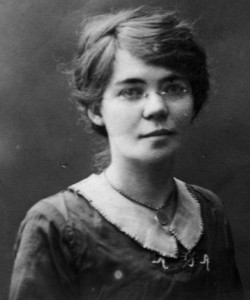 (Mary) born in 1884, also went to Miss Bailey's school in Wantage and later to Nottingham.  She was a clever milliner and had a millinery shop in Horsham, also creating window and wedding displays.  She lived in Reading, later in Horsham with Emma and for a period including the second world war, she lived on the top floor of the beautiful Manor House in Mayfield, Sussex. She filled it with antiques and Mary Irish remembers spending vacations with her there.  She lived in Grove until she died in 1965 and is buried in the Strict Baptist Chapel churchyard at Heathfield, Sussex.   (Click for photos)(
Heber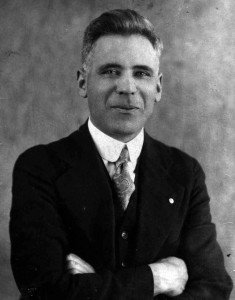 was born in 1886. He and Ruth were great friends.  Ruth was lame from birth and Heber took great care of her. He went to Canada first around 1910, returning to England to join the Imperial Army in the first world war.  A family story has Heber proposing to his cousin Mercy Smith sometime after 1915, asking her to come with him to Canada.  She refused.  After the war, he obtained some farmland through the Soldier's Settlement Plan in the Peace River area, met and married Ellen Victoria Lawrence (Aunt Vic) in 1918 and had two children: Ruth (Arlet) in 1920, and after moving to Vancouver in 1922, Robert in 1924.  In 1927 or '28, mother Victoria left home and never returned. (see letter from Arlet below) Edna took the children to her in Calgary from Vancouver a year later.  Heber lived in Vancouver until he died in 1944.  According to Arlet (Ruth), he never saw his wife or children again.  In 1950, my family took a trip to Alberta and on the way we stopped at a farm near Cranbrook where we visited Arlet who was in service to a family there.  Heber worked as a postman and spent his time with Grandpa John and the family, always hoping that some day he would be reunited with his family.  He is buried in the Soldiers' Plot of Mountain View Cemetery, Vancouver.
Ruth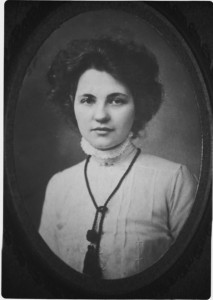 born in 1890, went to school in Guildford, living with Elsie and later working in her business for a time. After W.W.W's death in 1924, she lived with and helped out her mother Sarah at Heathfield.  She married John Cook in 1933 and lived in Calne, where her husband was deacon at Zion Chapel. After John's death in 1948, she moved back to Heathfield, reaching her 100th birthday in 1990.  The cousins who visited her will remember her little summer cottage in the back yard of Steventon, Broad Oak. We also have a message of greeting from Queen Elizabeth on that occasion.  She died that same year and is buried with her parents and sisters in the Heathfield Strict Baptist Chapel churchyard.