The Bursary is intended for First Nations students enrolled in a recognized post secondary course of studies, who are experiencing financial need.  The deadline for applications is the end of October.  The award is for amounts up to $1000.  Preference is given to students who have already completed part of their program of studies and who may be unable to finish because of their financial situation.
The Bursary is administered through the Vancouver Foundation and the award is given through the awards office of the institution attended by the successful applicant.
There is not an application form for the Bursary.  Instead we ask applicants to write a letter which includes information on:
 personal background (including First Nations or tribal background)
 program of study (brief description, length of program, number of years completed)
 transcript of most recent marks
 budget showing income and expenses; include any supporting documents
 letters of recommendation (personal and academic)
For further information contact Arthur More at [email protected]
Mail the completed information to Arthur J. More, Ph.D., ECPS, University of BC, c/o 5611 Woods Avenue, Summerland, BC, V0H 1Z9.
was born in Weyburn, Saskatchewan in 1908. Following the death of his Father, he moved to Salmon Arm around 1922. He went to Normal School (now Camosun College) in Victoria  from 1925-26, returning to Salmon Arm to teach until 1930. Hearing "the call to the ministry",  he attended Union College in Vancouver and was ordained into the ministry of the United Church  in 1936.
Elsie Harriet More (née West) (1907 – 1970)
was born in England, moving with her family to Canada in 1907.  She graduated from John Oliver High School in 1924. She attended Vancouver Normal School and then taught grade one at Brighouse School in Richmond from 1928-1936.  After her marriage to Bill in 1936, she became a partner in his ministry.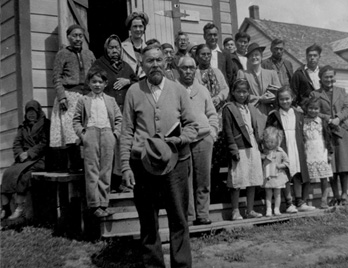 Bill and Elsie  moved to Hazelton in 1936, and shortly after that to Kispiox, a nearby First Nations Village where they lived and worked until 1942.  In Kispiox Bill was the minister, and both Elsie and Bill were the teachers.  Elsie also gave piano lessons.  It was during these years that they developed their lifelong interest in and involvement with First Nations people and programs.  In 1942 they moved to Ocean Falls, where Bill was the United Church minister; he worked closely with Rev. Peter Kelly, skipper on the Thomas Crosby mission boat.  Rev. Kelly was a Haida and a First Nations leader who headed the legislative committee of the Native Brotherhood as they fought for full voting rights for First Nations.  Bill and Elsie also served in East Trail (1947-1954), East Burnaby (1954-1961) and North Burnaby (1961-1965).  In 1965-66, Bill earned his Master's degree in Theology at Berkeley's Pacific School of Religion.  They returned to serve in Aldergrove (1966-1969) and Port Alberni (1969-1971).  During those years they kept abreast of events involving First Nations people and organizations, and they offered support wherever they could.  Many First Nations friends were regular visitors in their home, and several First Nations high school students from outlying areas stayed with them in order to complete their high school.  Their children – Donna, Art and Bruce – grew up sharing their parents' interest in and involvement with First Nations.
Following Elsie's and Bill's untimely deaths in 1970 and 1971, family and friends established the Bill and Elsie More First Nations Bursary in their memory, as a way of continuing Bill and Elsie's deep commitment.   The Vancouver Foundation agreed to administer the Bursary and has done so over the past four decades.
Donations are still made to the Bursary through the Vancouver Foundation.