---
---
We're originally

Muirs

!
The search for our ancestors in Scotland has been difficult. Brother Art and I have been trying to solve this puzzle since the '80s. I'd resigned myself to the possibility that there may not even be a "needle" in this haystack. What we now know is that John & Mary More emigrated from Glasgow area where John had been a papermaker, in or about 1830 to upper Canada (Simcoe County) – Nottawassaga, Ontario. Previously we had been working from family lore that they came from the Aberdeen area & we were of the Leslie Clan. Also, there was some evidence that our ancestors came with a group of settlers from Isle of Islay". I have now found a reliable source to link John More (the first generation in Canada) to William and Barbara More from Govan, Scotland (Glasgow area). The difficulties which we previously had relate to the approximate birth dates given to John and Mary in old family unofficial notations. It appears that they were born 5 years or more earlier that we had originally thought. I have also discovered that our name was originally Muir. I attribute the assumption that we were of the Leslie Clan to some Canadian forebear who looked up the Mores on a Clan Chart and linked us to the Leslies and thereby to Aberdeen area. There is no other evidence or family lore that I am aware of to support that notion. As a result of this discovery, I have abandoned previous "theories" and replaced them with a chart tracing the More/Muir line, showing that the great majority of "Mores" and "Muirs" are from Lanarkshire (Glasgow area), not Aberdeen. This is also consistent with the Islay connection insofar as Islay emigrants would have likely departed from the Glasgow area.
Visit to Scotland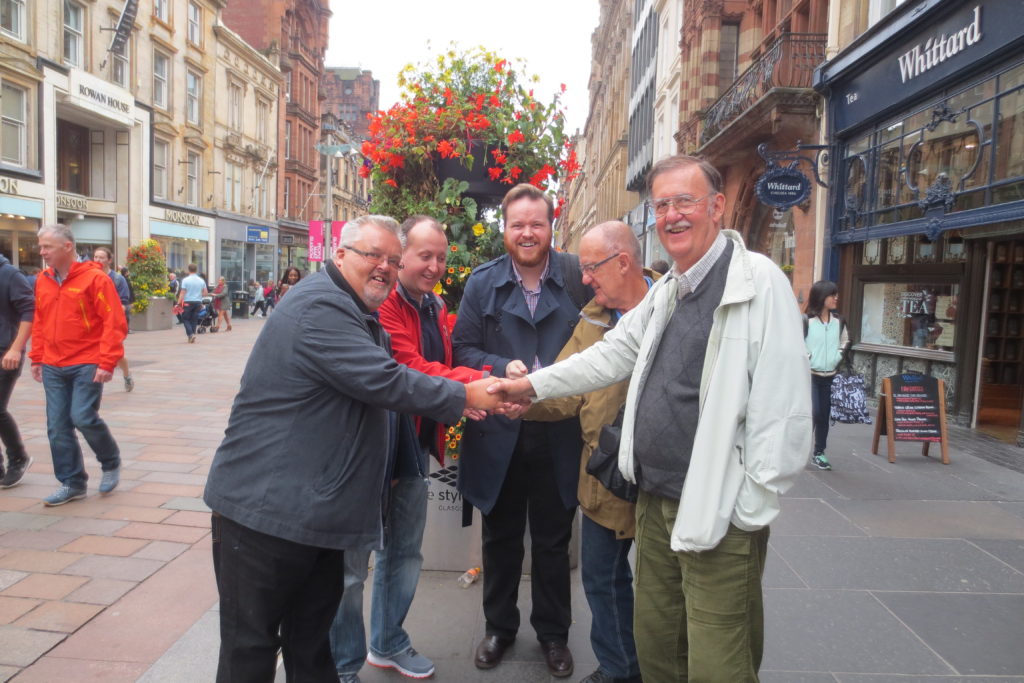 In 2014, I was in contact with a fellow genealogy "freak" from Glasgow: Andrew McNaughton, who thought he might be related to the More/Muirs. In September of 2015, during a trip to Scotland, Art, Connie and I had tea with Andrew, his brother Derek and father Alan at the Willow Tea Room in Glasgow. It was a wonderful occasion, we immediately fell into an intense conversation which lasted three hours. It was like we had grown up together.
Traditional residences
Conditions in Scotland leading up to 1830
Assuming they were peasants (there is no family lore to suggest otherwise), our ancestors lived in extremely difficult circumstances in the 18th and beginning of the 19th centuries. The enclosure movement at the time encouraged Lords to enclose their properties (usually with stone walls) for the purpose of raising sheep, but also to enable more profitable large agriculture. As a result, the communal element or small farming was replaced when individual landowners took over private control of defined areas of land. The community no longer had rights over most of the land, and the poorer members of village society were frequently disadvantaged in consequence. Toward the end of the 18th century, many rural dwellers moved to the cities, availing themselves of the increasing employment opportunities of the industrial revolution. This was much more profitable than the previous system which had peasants paying rent to the "Lairds". The presence of the peasants on "their" land was increasingly incompatible with the enclosure system. From History of Scotland by Clifford Hanley, London, Bison Books, 1986, p. 157:
"The Highlander, although he had always paid tribute to the chief in cash or kind, regarded the land as his own. It was not……..Steadily the glens began to be emptied of people and populated with Cheviot sheep. The peasants were not actually driven from Scotland. They were moved to miserable little plots on the rocky coastlines to scrape a living from miserable smallholdings and fishing; and, quite often, to die……And it was a heavy burden. To move to the coast he had to take his dwelling with him, or at least the roof timbers, since there were virtually no trees in the area. But for some, there was another removal available – removal to the New World."
In 1831, 58,000 people emigrated to Canada. A year later more than 60,000." (THIS IS THE MOST LIKELY TIME OF EMIGRATION OF JOHN AND MARY MORE.) Alas, before 1865 there are very few passenger lists available.