Harold Edgar West born April 29th, 1912, in Earlie, Alberta, fifth child of eight, third son of five, to John and Emma West.  As his father served with the Canadian Army during the First Great War (1914 – 1918), his mother was responsible for the large family.  She moved them first to Edmonton and then to Calgary.  His father returned injured by mustard gas and his physicians suggested a move to Vancouver to help the PSD.  In 1919, their first home was on Beatrice St. near Victoria Rd. and Kingsway.  1920, found them in a stone house near Elliot 56th Ave.  1922 to 1928 was on 62nd Ave E.  1928, was a two home year, 71st Ave in Marpole and #18 Rd on Lulu Island.  From 1929 to 1937 they lived in Dunbar then 7th Ave. near Balaclave & Bayswater St.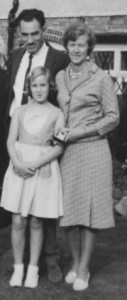 Harold earned his teaching degree from University of British Columbia.  His career began in January, 1935 at Lord Roberts. In 1937, he began teaching math and P.E. at Point Grey High School and in 1940 – 1947 moved to John Oliver High School.  In September, 1947, and for the next nineteen years, he taught at Magee High School.  During this time, he had up-graded his qualifications at Western Washington and Stanford Universities.  He was made head of the Magee Math Department in 1961.  In 1963, he became a special councellor for Point Grey, John Oliver, King Edward, King George, and Kitsilano as well as, Magee.  He moved to King George Secondary in 1966 and retired in 1973.
Five months after meeting, Harold and Marjorie Agnes Clark were married on September 15th, 1939.  Harold was to be best man for his brother Fred and Marjorie was to be maid of honour for her very good friend, Nora.  Thinking it would be a great joke on Marjorie, they introduced Harold to the engaged Marjorie as Harold McGregor.  Harold so charmed Marjorie, that she married him instead.  Marilyn Jean was born July 11th, 1940, and was the first to bring the joy of parenthood to their lives.  John Barry was born December 10th, 1945 during a WWII blackout.  Kathryn Joanne arrived July 12th, 1954 delighting not only her parents but the older siblings as well.
Harold was very athletic.  His sports of choice, at the time, were tennis in the summer and badminton in the winter.  He joined the Vancouver Racquet Club and became president in the early 60's.  As his knees began giving him trouble, he turned to golf .  He joined the Marine Drive Golf Club where twice in one year he hit a hole in one.  When the family moved to Boundary Bay, he  joined the Beach Grove Golf  Course.  Harold learned building skills from his father and from his oldest brother, Jack.  Building a  backyard chicken coop lead to building and refurbishing homes, contracting apartments and finally, buying properties for subdivision and development.  This kept him busy and was a source of income during the summer when he wasn't teaching.
In 1945,they bought property in Boundary Bay for $500.00 and built a cabin.  The season started at Easter.  Summer was spent entertaining extended families and friends. Grampa West would often bike to Boundary Bay from 27th and Heather, taking the Patella Bridge, Scott Road and No. 10 Highway.  He would pitch his canvas tent in the yard for a week or more. Remembering Harold at Boundary Bay is remembering:  golf on the sandbars, working on the cabin, collecting rocks for his rock hound collection, using a row boat to pick up stray logs for continued cabin construction, building bonfires for the crab cookouts, year end teachers stag party and entertaining family and friends with his quiet sense of humour.
Eventually, there were two cabins on the property, "West Bahamas'" named for Barry, Harold and Marjorie and Marilyn, and "Kay West",  named for Kathryn.  These were replaced in 1965 by their permanent home.  They began their travels when they would pack up the car to visit Bill &Elsie in Trail, Margret and Jack in Kelowna, Phil & Evelyn in West Vancouver, Ruth and Wes in Gibsons and Edna at her summer home in Granthams.  In 1949, they took Grampa West and went to see Ken and Irene in San Francisco.  These were great bonding times for all generations.
In 1964, for their 25th wedding anniversary, they boarded the "Oriana" and set sail with ten year old Kathie.  It took seventeen days to go through the Panama Canal and across the Atlantic Ocean to Jolly Old England where they had visits with cousin Mary, Uncle Percy and Auntie Ruth.  Boarding a plane for the first time, they flew to Paris and Amsterdam.  The travel bug hit!!  They started spending the winters in Hawaii with the teachers group.  They cruised to Turkey, Croatia, and Athens.  Then back to England, Australia, Tasmania and New Zealand making friends along the way, many of whom would eventually visit them in Boundary Bay.
Sadly, Harold passed away in 1979 at age 67, just before their 50th wedding anniversary.  In 2012, Harold's and Marjorie's ashes were spread, half in Hawaii and half in Boundary Bay.
​