A year ago, we had to cancel this trip, due to Connie's mom's sudden illness.  Now that her mom is "hale and hearty" again, we are delighted to finally begin this new adventure.
We flew on Icelandic Air from Edmonton, but only got a glimpse of Reykjavik since our turn around time was less than an hour.
Our exchange flat is small but very well appointed and on the top floor of a 6 story apartment complex in Lidingö, an island east of Stockholm.  We rented a car at the airport for our 3 week stay and thus began our first adventure.  The Renault "Captur" must have been used in a monster truck rally because on the second day we started hearing grumbling noises from the rear-end.  We took it to a nearby Hertz place (not all the way back to the airport) and they immediately dealt with it, giving us a brand new Ford Focus in its place.  The Swedes are very efficient business people and extremely helpful in these situations.
The general auto-related policies in this part of the world, however, define mean-spirited and predatory.  If you park for a brief time in a shopping mall for instance, even posted with a 2 hour limit, you will get a ticket, (400 sok or $60Cdn) since you were "supposed" to know that a parking disc (a device which reveals the time you parked) must be displayed.  Thanks to the Hertz people, we also found out that if we drive in Norway, the electronic tolls will "attach" to our license plate and a bill will be submitted to the car rental company who will in turn pass on the cost ($50 administration fee plus the toll) from each toll booth.  This system of independent toll booth operators is the best argument I've seen yet against privatization.  The rental company then adds its own service fee.  There are horror stories of drivers receiving charges of thousands of dollars, months after their trip.  Thanks to our friends at Hertz, we've registered our credit card and our license plate and the tolls will be charged directly to our account without any administration fees.
But enough about mundane money matters.  First general impressions of Sweden are of a country which is "the greenest green I've ever seen" (gonna write a song…).  Granted it is blossom time here, but there are blooming lilacs (white and purple), chestnuts, and an amazing profusion of  exotic plants which we've never seen before – surprising for such a northern clime.  A beautiful and LOUD bird song on our balcony at 3:15am sunrise was a mixed blessing.
My early research on Sweden and Norway warned of exceedingly high food prices.  That may  be the case for restaurant food, but not always for supermarket prices.  Generally, the supermarkets rival and may even surpass ours in terms of choices and variety of brands.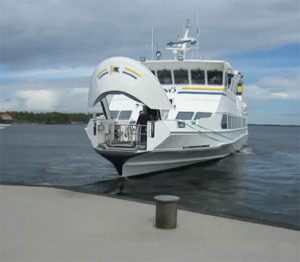 We spent our second day in the old city via a superb transit system, 60 SOK ($8 Can.) return for the two of us. Stockholm is all about water ("Water, water everywhere" – gonna write a poem – wait.. it's been done). Several islands form the downtown area, with freeways built over some waterways – weird but efficient in a Swedish sort of way.  The buildings in "Gamla Stan" are very old, many dating from the middle ages – the destruction of the "world wars" not having reached these shores.  It is very colourful and rivals any medieval European city for fascinating architecture and character.
Our third day took us on a boat trip through the Stockholm Archipelago to Vaxholm.  One of the most fascinating aspects of this trip was seeing Swedish traditional vacation home architecture.    There are a large number of ferries, ancient and modern, which run regularly to hundreds of stops throughout the islands.  Although there are a few car ferries, the ferry we took (be sure to see the video) was modern, fast and for passengers only.
——————-
Oslo had several attractions for us: Connie's dad's ancestors are Norwegians from Oslo (her great great uncle was Chief of Police at the turn of the last century.)  Bruce has a former Norwegian student who teaches in Oslo and who gave us a wonderful tour of the city.  Like all other tourist items, hotel costs are double what they are in Canada.  We found a hostel in which we could get a room to ourselves.  It was bright and clean with large beautiful grounds, kitchen access plus free parking and a really excellent breakfast included (pickled herring – yum!!!)  at $120 Can. per night.  The only drawback was that Connie and I had to endure sleeping apart in the bunk beds.  Oslo is a truly beautiful city in a superb setting of mountains and water. Steinar's suggestions for attractions were excellent.  A highlight for us was the huge sculpture park by Norwegian artist Gustav Vigeland, which Connie remembered visiting in 1968 en route to her study year in Hungary.  The stunning new opera house and the re-designed downtown area equally pleasing.  We also spent several enjoyable hours in the maritime and folk museums and at the end of the day appreciated superb views from one of the mountain-tops which surround the city.
At this, our last stop of the day, we encountered several black vehicles and a large black van that was loading muslim-attired people.  Steinar exclaimed, "it's them, it's them"! It turns out that representatives from Afghan women's groups and the Taliban were holding talks in Oslo that day, and we happened upon them as they left the restaurant.  Steinar has a particular awareness of these things since his father is Ambassador to Israel from Norway.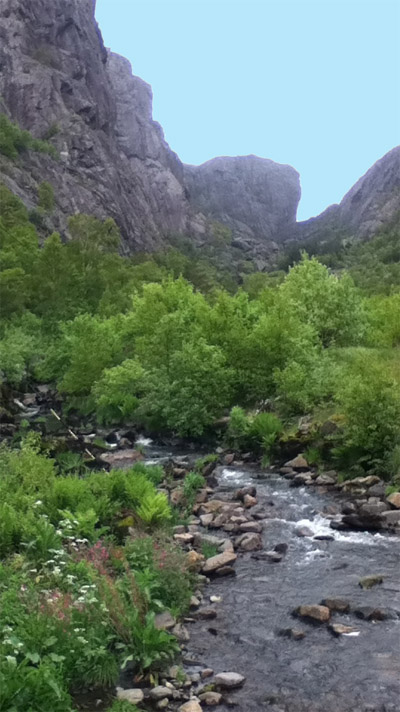 Our next stop was Dynestøl, Norway, about 4 hours south of Oslo, the home (actually the 145 acre farm) of Unni Grindland, our house exchange host.  We spent 2 nights relaxing and sight-seeing with our new friend before moving on.  This was our first opportunity to see rural Norway and the intense natural beauty of the area.  Most notable was the increasing number of lakes and fjords, and as we travelled further west to the Stavanger Peninsula, great rocky hills.  Our cabin at a campsite  on the Steinsnes River was excellent with a lovely setting and a kitchen (again with the bunks!! –  my God, Norwegian couples must sleep together at some point in their lives!). Our drive to Stavanger and the north-east coast of the peninsula gave us more of the superb views we'd grown accustomed to.  Stavanger is a sizeable city with lovely modern houses, reflecting Norway's oil-based economy.  This area is important to the oil drilling activities along the Western coast of Norway.  On our way back to Unni's, we decided to visit a little archipelago near Flekkefjord – a town called Kirkehamn which was a ferry ride off the beaten path.  Combined with the beautiful weather, this was a concentration of all the geographical beauty of the area with an exquisite combination of rocks, buildings and sea.  One more night with Unni concluded our Norway visit, with the return trip bonus in Karlstad Sweden, where we stayed in a lovely old B & B with all the amenities of a luxury hotel.
3. Third week – in Stockholm: June 11 – 17                 Slide show 3—    Video: "Wind & Water"   
The dark rainy weather of our first week in Sweden was not compatible with walking the streets of Stockholm, so we reserved the concentrated activities in the city to our last week.  This proved to be good judgement, since the two days which we chose to use the Stockholm Card (admission to most city attractions & transit links) were perfect sunny days in the low '80s.  The card was expensive, but we found that the cost was far less than the individual entries of the places we visited.  As in Oslo, we visited the folk museum, here called "Skansen", the stunning "Vasa Museum" (gigantic preserved 17th c. ship), a toy and transport museum, rode to the top of the Ericsson Sphere and at the end of the second day took a sightseeing boat around the harbour.  We became quite intimate with the transit system, which is truly world class, boasting state of the art smooth, fast trains which run minutes apart, and hybrid or biogas buses of high comfort and efficiency.
4. Fourth week – in Virginia: June 17 – 27                     Slide show 4
The denouement of our trip was a visit to Connie's mom.  We took her to the Ward / Gibb family reunion on the Eastern Shore.  The photos speak volumes.

Lasting impressions of Sweden & Norway
 Prosperous  yet "people conscious" societies – one of the many signs of this is the lack of apparent homelessness.
 Fabulously beautiful and intensely "green conscious" countries
 Transit systems that work really well.  Buses have seat belts, by the way!
 Governments which have made "real" commitments (beyond lip service) to the well being of their citizens.
Virtually everyone speaks English except some older people and younger children.
Newer suburbs tend strongly toward satellite communities with medium rise apartments clustered together with stores, schools and day-care centres, rather than sprawling tract housing or monster houses.
Conversations with teachers and visits to schools suggest governments with particularly strong commitments to education.
There is a much higher value placed on quietude here: less honking, rare boomboxes from cars or houses; almost no muzak; less people noise around apartment complexes – even the seagulls are quieter!
Stockholm is a city of harbour vistas, with an un-ending parade of boats and ships from all eras –  a floating museum – Stockholm is to boats what Havana is to automobiles.
Gripes:
In countries with water arguably more  available than anywhere else, there are no public water fountains.
 It seems that all public bathrooms require payment (about $1).
 Many toll and parking-related policies are mean-spirited and predatory.
Silly stuff – Misconceptions shattered:
Not all the women look like ABBA.
Not all the men look like Mr. Tudball.
When Swedes laugh, they don't say "tehüt, tehüt, tehüt, tehüt!
Swedish Chefs don't say "Bork! Bork! Bork!
Silly stuff  – Videos for the grand-daughters: