Of the many occupations of our ancestors, the miller was foremost in the 19th century.  There are six mills in Oxfordshire which were run by members of the west family from the late 18th century onward.  (see Allan Stoyel's research on the Mills – letter at bottom)
(Click on map to enlarge)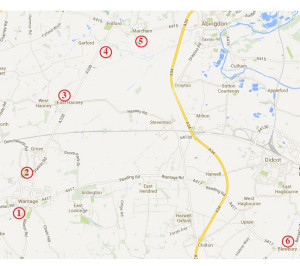 1. Ham Mill – Southwest of Wantage on Ham Road – William Westell West managed this Mill as a young man, with his sister Fanny.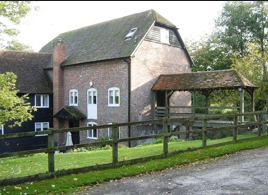 2. Hines Mill – Daniel (b 1813) was here in the 1850s.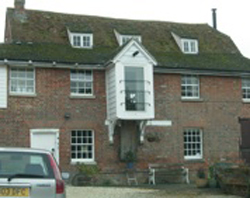 3. Lower Hanney Mill – Daniel (b1813) and his son (Daniel James, b. 1856) were here from 1868 until 1903, before dust/lung problems caused him to move to Garlands Farm.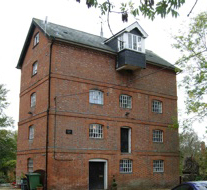 4. Venn Mill – William Westell West (b. 1847) and his son John (Grampa) were millers here until 1906.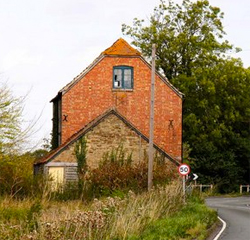 5. Marcham Mill –  Will (Grampa's eldest brother) was here in the early 19th century.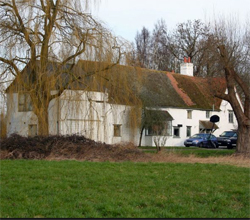 6. Blewbury Mill – This is the first West family operated Mill in our records.  James (b. 1780) was here from around 1800.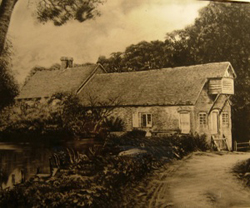 Letter from Mill researcher Allan Stoyel:
Note that he finds no mention of a West at Blewbury.  This is possibly due to the lesser detail given in mill directories (e.g. tennant Miller' names) in the 18th century as opposed to the end of the 19th century when all occupants were listed.  Another possibility is that there is confusion between "the Blewbury Mill" (not "our" mill) and "the Old Mill" in Blewbury ("our mill").  Family verbal tradition is quite strong putting James and Daniel in "the Old Mill" from the mid 18th century.  I rely heavily on family verbal tradition.
Many thanks to Alan for his excellent and helpful work!