Memories of Loraleigh and Cally
Phillip Aldworth was born in Namao, 7 km north of Edmonton, in 1908. He was the third eldest of eight children. His family moved to South Vancouver in 1918. When he was 14 years of age, Phil worked moving pianos to help support the family. Phil would give his mother his pay cheque, and she gave him back some pocket money. Along with Grampa, Phil and his brothers, Harold and Fred, cut wood on Burnaby Mountain to bring in extra money for the family.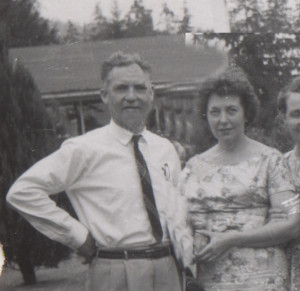 Evelyn Isabel (Hacking) was born in Vancouver in 1918 and her family were originally from Lancashire and Yorkshire in England. Phil and Evelyn both attended John Oliver High, although at different times. They met at a dance in Vancouver and were married in 1934.  In the early days of their marriage Phil painted streetcars, while Evelyn ran a store at the front of their house. The first house they owned was on Broadway in Vancouver (this was during the Depression). Rosemarie was born before the war in 1936, Daryl in 1939, and Cally in 1942 during the war. Rosemarie remembers Phil placing plywood over the windows at night and going to neighbours' homes reminding them to turn off lights, as the Japanese enemy ships were on the west coast of Vancouver Island. In order to avoid the possible Japanese invasion of Vancouver, the family moved to Canoe, near Salmon Arm in B.C., when Cally was still a baby. Phil worked the farm near his sister Ruth and Wes Hannah. Evelyn's parents stayed with them for a time as did Grampa West, to help get their house built. That winter in Canoe the temperature dropped to -40 and since the barn wasn't yet built, they had to let the cow in the kitchen! It was a struggle to keep the animals from freezing as well as to keep the baby warm.
After the war the family moved to North Vancouver. Phil became a successful entrepreneur, building houses. He started Wesko Products, a North Vancouver company that upholstered furniture and installed drapery for Woodwards and Eatons department stores. Phil also manufactured jackets, and then later added Galaxy Enterprises, a carpet business. During this time Loraleigh was born (1952). The next year the family moved to 957 Taylor Way in West Vancouver. Charles was born in 1956.  Charles became a teacher working in both public and Waldorf schools. Loraleigh has worked in Prince George, Jamaica, and on the Sunshine Coast as a clinical counsellor in private practice. Cally had a career in fashion photography, commercial and television modelling, later working as an executive secretary. Daryl followed Grampa's footsteps and had a long career as a finishing carpenter. Rosemarie designed and sold painted silk fashions.
Phil and Evelyn both enjoyed gardening; Evelyn looked after the flowers and Phil worked in his vegetable garden to the delight of his grandchildren! He kept the lawn immaculate and short, so he could practice his putting and croquet. Grampa usually came and stayed with Phil and Evelyn in the spring, helping to start the garden, making outdoor furniture, and doing other projects around the home. Phil enjoyed cards with his friends and did beautiful lapidary work. He also liked to cook and bake. The last few years he made wine from scratch – even picking the berries!
In 1981 Phil travelled with his brother Jack to England, where they toured the countryside with their cousin Mary. This was Phil's second trip to England, as he went by ship to England by himself when he was 17 and spent a summer with his cousins.  Phil and Evelyn travelled together to Hawaii and California. One of the trips to Hawaii included Loraleigh and Charles. Other family vacations included road trips to the Okanagan and Manitoba to visit Evelyn's cousins, and Prince George to visit his brother Jack and his wife Margaret. Evelyn occasionally worked in the office with Phil when the children were at school. When the children were adults, she worked as a nurse's aide in the same private hospital she spent her last five years. Evelyn was a member of the West Vancouver Baptist Church where she taught Sunday school and sang soprano in the choir, later with Loraleigh singing alto. Evelyn was also a member of the Caulfeild Choristers, sometimes performing solos. Evelyn was a long-time member of the West Vancouver Sketch Club. She and Rosemarie joined the club together. Phil was a great fan of Evelyn's painting and singing. As a senior, Evelyn added square-dancing to her other interests.
July 4, 1982 was Phil's 74th birthday, and Evelyn and family had a party that was attended by his children and grandchildren as well as nieces, nephews, and his sister Edna. He passed away August 27 that same year. Evelyn died September 9, 2008 in her 91st year.
​