In 2012, I visited John ("Patriarch" of the West Kuzzins), in Red Deer.  At one point he made reference to a comment from Grampa saying that he came to Canada with "Lloyd".  At that point, I had no idea who Lloyd was, but it opened up a whole new area of interest for me.  There is much on the web about this era in Canadian history.  I also recommend Pierre Berton's fascinating book "The Promised Land, Settling the West 1896-1914".
Today, all of Grampa John and Gramma Emma's grandchildren (the "Kuzzins")  live in B.C. and Alberta.  Obviously we all find western Canada a superior place to live, but how did it happen?  Why did John and Emma (with infants Jack and Elsie) leave the beauty of rural England to come to what was then the pioneer lands of eastern Alberta?
Venn Mill, near Wantage, Oxfordshire, where Grampa's family was raised, and Elsie and Jack were born, is a flat and fertile land.  Along with other nearby mills, it provided a livelihood for several generations of Wests. Towards the end of the 19th century, however, the tendency towards consolidation of corn (grain) mills into larger factories gradually put an end to any dreams of the "good life"  for the miller in England.
This economic reality converged with the lure of the military, resulting in Grampa going off to fight in the Boer war.  Add to that the great interest in the gold rush amongst Britons, which spawned Grampa's epic trip to the Western U.S.  This ended with his being shanghaied out of Tacoma and being released 6 months later in Ireland.  The most significant "push" toward emigration, however, was the large effort being made by Canada to attract British families to develop farming land in Saskatchewan and Alberta.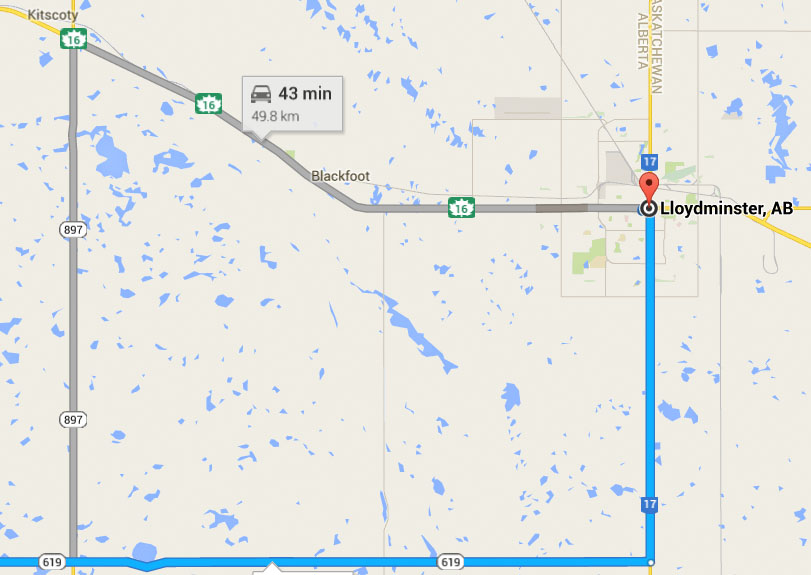 This story begins with Isaac Barr, who organized a large emigration of "Brits" to the Lloydminster area.  Barr, by now, had first-hand experience with the economic doldrums in England, compounded by thousands of soldiers returning from the War in South Africa with few economic prospects – an apt description of Grampa's circumstances in these years.  It would appear that Barr's personality and ethical limitations resulted in the control of this immigration passing to George Exton Lloyd.  (See more details in my article "The Road to Kitscoty").  The first settlements in the Lloydminster area were in 1903, and Grampa's family's arrival was not until 1908.  The birth dates of the family members subsequent to arrival indicate some intriguing possibilities, suggesting that the family first came to the Edmonton area (Phil, born in 1908 north of Edmonton), then to Lloydminster (Edna – born in 1910 in Lloydminster) and Kitscoty (Harold born in 1912 in nearby Earlie, Alberta).  Phil's birthplace is listed as "Namao", Alberta, literally a highway intersection north of Edmonton, with the nearest hospital in the new city of Edmonton. There is family verbal tradition that all the "babies" were born at home, so it's possible that Namao was the address of a home that he was born in.  In an on-line article, there are less than 50 pioneers listed in that area, one of whom is a "George Long".  This was Gramma's family name – in fact there were several Georges in their lineage.  Furthermore one of their daughter's names was "Mabel', also common in the Long family.  In time, I hope to construct a family tree to confirm the intriguing possibility that Grampa and Gramma stayed with cousins of Gramma when they first arrived.  After the birth of Harold, and Grampa's departure to the First War,  the family moved to a riverfront house in Edmonton (which was inundated in the great flood of 1915).  Here Fred (1914) and Ken (1917) were born.  By 1919, they had moved to Vancouver (via Calgary) due to the recommendation of doctors concerned with Grampa's respiratory health problems from mustard gas during the war.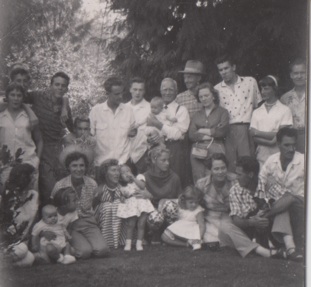 And so the "odyssey" of the West family is complete, and here we all are (Fred and Nora's place at Beach Grove, 1958).  The success of the West brothers and sisters has been legendary and there are Wests all over Western Canada to prove it!
Upper row – left to right:  Diane, Bruce, Rich, Barry, Art, Darryl, Greg (Charles), Grampa, Grampa Clarke, Rosemarie, Jack Stackhouse, Marilyn, Phil
Lower row – left to right: Evelyn, Linda, Ruthie, Edna, Marj, Kathy, Callie, Joy (Loraleigh) Elsie, Fred, Buttons, Harold
(not present: Bill More; Donna More, Barrie Cotter, Betty Turnbull; Jack, Margaret, Johnny, Ann & Billy (Kelowna); Ruth, Wes, Arlene, Helen & Terry (Gibsons), Ken, Irene, (Toronto)
Kuzzin Bruce, Victoria, February 4, 2015